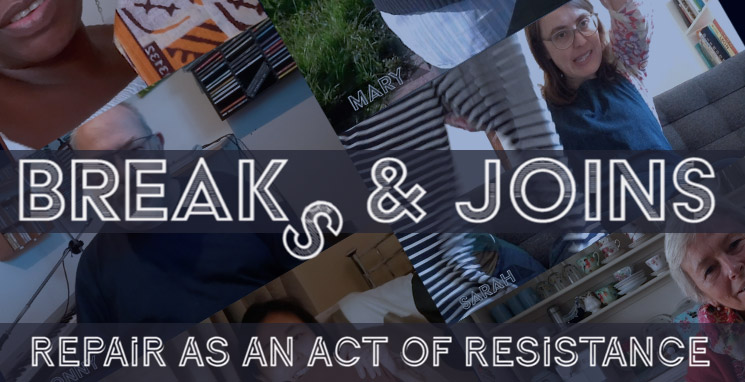 I'm a theatre maker, facilitator and researcher. I work across art forms, and specialise in participatory and collaborative work. I've recently worked with Magic Me on GenerationRebellion, Paula Varjack on 'The Baby Question' and The Academy of St Martin in the Fields on Serenade. Past partnerships include Ovalhouse, Royal Albert Hall, People United, The South Bank Centre, Mulberry School for Girls & Sydenham Festival.
I lecture at Goldsmith's, University of London, where I'm the co-director, with Gail Babb, of the MA in Applied Theatre.
www.gold.ac.uk/pg/ma-applied-theatre/
Current work includes
Breaks & Joins is a film and spoken word project on the repair as an act of resistance. Follow us on Instagram @breaks_and_joins
In the project we are working with three community groups in Lewisham, through practical repair sessions with Mo Sumah, Text and Clay sessions with Amanda Mascarenhas and training in 'Community Conversations', with Raj Bhari. These 3 strands enable an examination of how we repair ourselves, our stuff and our communities, and how we live with what cant be mended.
Our podcast launches on February 4th 2022- look out for interviews with Rose Sinclair, Sudip Chakroborthy, Claire McDonald, Raj Bhari, Rachel Ho, Sylvan Baker and many more!
Join our mailing list to get details of open repair sessions and open workshops by emailing breaksandjoins@gmail.com
Generation Rebellion is the most recent in a long line of projects with women aged 14-80+ that I work on with Magic Me. Despite stops and starts due to Covid, we have kept on with an exploration of how we might become climate justice activists, and why its better to do it together. We took a film to COP26, and the group led a workshop with more than 100 attendees, online and in person. Look out for the group at Poplar Union in March 2022
The Gratitude Enquiry: Three projects , funded by Arts Council England, looking at ideas around gratitude both as a theme and as an aspect of the process. These projects are now in development for future outings.
Call out for films! We are crowd sourcing short films on the art of repair.
Contact me on sue_mayo@yahoo.co.uk