The launch of Fanmail was part of the Sydenham Festival, and we invited the Sydenham Singers to sing while people moved among the trees. The fans were suspended on lanyards, and you had to pull them down to get a closer look and then let them spring back, up into the trees. It was absolutely lovely to walk peacefully around the copse, or through the Victorian Greenhouse, with the singing in the background.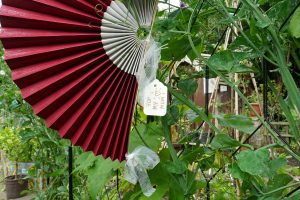 The choir leader, Janna Goodwille wrote
The singers had a very thought-provoking time I think. I led them more into contemplative singing than I would normally do in a workshop, focusing on places people and things they would like to thank, and I think the performance aspect of it was quite a new experience for those I've been working with for a while. Providing more of a meditative soundscape to another installation rather than being the main event was very touching for some people. I think the singers felt part of something bigger than themselves, well beyond the choir and that was special. I enjoyed it very much too.